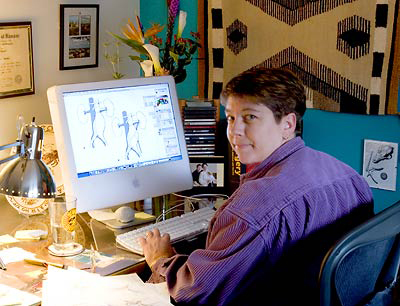 NOTE: Website under re-constructive surgery.
New images coming soon!
My name is Holly Fischer. I have a Master of Fine Arts in Medical & Biological Illustration from the University of Michigan Horace H. Rackham School of Graduate Studies and have lived and worked in Ann Arbor, Michigan since 1987. Before working for Biomedical Communications at the University of Michigan, I came from the University of Kansas Medical Center in Kansas City where I worked in the department of Design & Illustration.
I prepare artwork of Surgical Procedures & Operations, Anatomical Studies, Scientific Research and other Medical, Health and Scientific related information. I am also involved in product liability and malpractice lawsuits. My medical, anatomical and scientific illustrations appear in textbooks, journals and presentations in the USA and internationally. I create my artwork by incorporating traditional training with current techniques and technology. (there's nothing better, believe me). I can create artwork that is simple Black & White line, Continuous Tone as well as Complex Color concepts.
This artwork is intended for use as educational aids to audiences in the advanced health sciences and medical-legal/product liability fields. Please don't try this at home...